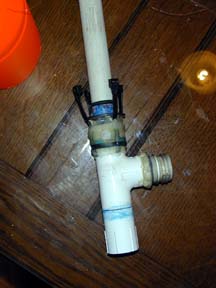 I started out with an "Americanized" duplication of Ian Clark's original Cable Tie Launcher (see link below,) using plans compiled by Bruce Berggren and posted on his Water Rocket Garage web site (see link below.) I suggest you start with one of these launchers as well, because it is simple, all parts are available at the local hardware/plumbing center, it is cheap, fast to complete, and it works amazingly well! Bruce has detailed construction drawings and a parts list so you can print it out, go to the store, and then build your first launcher in an hour or two.
Ian is in the UK, and I asked him if he ever dreamed the cable tie launcher would come into "world-wide" use.
Ian replied: "I was rather shocked at the reaction to the launcher though, obviously, it filled a need, and certainly it worked far better for me than any of the other methods I had tried. A lot of others must have had the same problems."
I will not go into much detail here about building my first launcher, as Bruce has done such an excellent job posting his construction plans. Just look for areas to make minor improvements, such as using a hose clamp to help hold the cable ties, and freely adapt it to the materials available to you. There is really only the o-ring seal size and placement and the launch tube dimensions that are critical, the rest is open to experimentation and adaptation.


Click here to visit Ian Clark's Web Page detailing the original Cable Tie Launcher.
Click here to enter Bruce Berggren's Water Rocket Garage launcher instruction page.